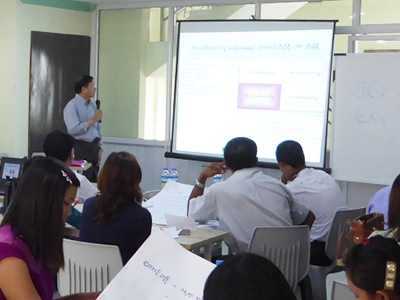 Name
: Dr. Myint San
Course
: HR and Leadership, Japanese Style Management
Affiliation
: Director, Myanmar Economic Development Research Center (MARCED)
Field
: Economic Development, Managerial Economics, Business Management
(HR and Leadership, Communication and Japanese Style Management)
Qualification
: M. Econ, Ph.D. (Policy Study)
Profile:
Dr. Myint San worked the teaching staff at the department of economics, Institute of Economics (Myamar). He studied Japanese universities such as Nagoya University and Aichi Gakuin University (Japan).
He has well experienced in teaching and research activities in Myanmar and Japan. He has also experienced INGO field work experience under the Nippon Foundation Project.
Dr. Myint San also worked at the Embassy of Japan as staff officer of Japanese scholarship program. After that, he has been teaching the Master of Business Administration program, Master of Public Administration program in Center for Strategic and International Studies (CSIS), Myanmar; and Master of Development Studies in Yangon University of Economics as well as Human resource management and leadership, communication and Japanese style management in Myanmar-Japan Center (MJC).
He has also conducted corporate trainings in Yangon and Mandalay as well gave special seminars and lecturers in many States and Regions of Myanmar. Dr. Myint San also acts as advisor for Myanmar-Japan Socio-Economic Development Association (M-J SEDA), Chairman of May Kha Hostel Foundation (Former hostel of Yangon Institute of Economics), Vice-Chairman of Nagoya University Alumni, Joint Secretary of Myanmar Economic Association (MEA). Currently, he is working for Dawei Special Economic Zone Management Committee as Vice-Chairman (2).