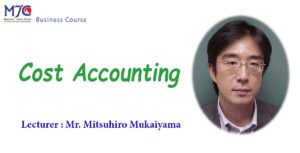 Participants will learn basics in cost accounting during the course. Based on what to be learnt in the course, they are expected to be inspired how to apply those to solve or improve actual management issues that they face at work or in business.
#Goals
❑ To understand basic concepts and calculation technics in each topic of cost accounting
❑ To recognize essential practices in cost accounting
❑ To be able to apply ideas and methods in cost accounting for management issues practically
#Curriculum_and_Schedule
The course consists of 2- or 3-day classes, 12 hours in total for the course. Participants study subjects that shown below during the course.
1. Basic concepts in cost accounting
2. Accounting for raw materials
3. Accounting for labor cost
4. Accounting for other cost
5. Accounting for overhead cost
6. Cost accounting by department
7. Job costing
8. Unit costing
9. Process costing
#Lecturer
Mr. Mitsuhiro MUKAIYAMA
Senior Consultant/CPA, Truspire Co., Ltd
– Based on professional experiences in auditing, accounting, and related advisory services at PricewaterhouseCoopers Japan, Belgium and Turkey over 8 years as well as lecturing accounting for CPA candidates at Ohara Accounting School in Japan, Mr. Mukaiyama has been engaging in management consulting more than 10 years.
Currently his main activity is providing financial and business advisory services for growing businesses as well as giving lectures at JICA Japan Centers in developing countries as expert for JICA and EBRD EGP (European Bank for Reconstruction and Development; Enterprise Growth Programme).
Also in Japan, auditing and internal control consulting are provided to Japanese companies.
Date – 7 & 8 Mar, 2020 (Sat,Sun)
Time – 9:00 AM – 4:00 PM
Fee – 40,000 Ks (12 hrs)
Language – English – Myanmar
Venue – MJC Yangon Office
12th Floor, UMFCCI Office tower, No (29), Min Ye Kyaw Swar Street, Lanmadaw Township, Yangon
Contact – 01 2301662, 09 250185455, Fax: 01 2301663
Email – mjc.hrd@gmail.com
#Mandalay
Class (I)
Date – 22 & 23 Feb, 2020 (Sat & Sun)
Time – 9:00 AM – 4:00 PM
Fee – 40,000 Ks (12 hrs)
Language – English – Myanmar
Venue – Kanaung Hall, Industrial Zone, Mandalay
Class (II)
Date – 24,25,26 Feb, 2020 (Mon,Tue,Wed)
Time – 1:00 PM – 5:00 PM
Fee – 40,000 Ks (12 hrs)
Language – English – Myanmar
Venue – MJC Mandalay Office
Block (1), Room (6), Chan Mya Tharsi Township, Mandalay.
Contact – 09-425557434, 09-428554571, 09 – 441394680
Email – mjc.mdy2017@gmail.com